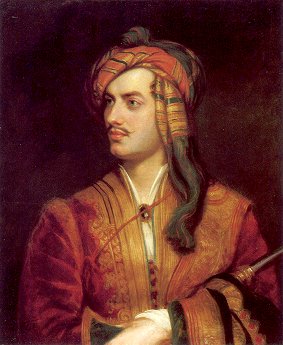 George Gordon or Lord Byron, shown in Albanian dress by Thoman Phillips from the National Portrait Gallery in London, was a notorious Romantic poet and satirist. He was famous in his lifetime for his love affairs with women and Mediterranean boys. He also wrote some pretty decent poetry and became a national hero when he came to Greece's aid in its war against the Turks. Having decided that action was more important than words. he armed the brig Hercules at his own expensive and formed the Byron Brigade, arriving in Greece as a savior. However, before Byron saw any serious military action, he died in Missolonghi on 19 April 1824 at the age of 37. The Greeks, who had pinned much hope on this famous philhellene were devastated and declared three days of mourning. Even Easter festivities were cancelled. Lord Byron had wanted to be buried in Athens, but his body was pickled and shipped back to England accompanied by his dog.
Maid of Athens, ere we part,
Give, oh give me back my heart!
Or, since that has left my breast,
Keep it now, and take the rest!
Hear my vow before I go,
Zoi mou sas agapo.
By those tresses unconfined,
Woo'd by each Aegean wind;
By those lids whose jetty fringe
Kiss thy soft cheeks' blooming tinge;
By those wild eyes like the roe,
Zoi mou sas agapo.

By that lip I long to taste;
By that zone-encircled waist;
By all the token-flowers that tell
What words can never speak so well;
By love's alternate joy and woe,
Zoi mou sas agapo.

Maid of Athens! I am gone:
Think of me, sweet! when alone.
Though I fly to Istambol,
Athens holds my heart and soul:
Can I cease to love thee? No!
Zoi mou sas agapo.
Return to History of Greece: Biographies