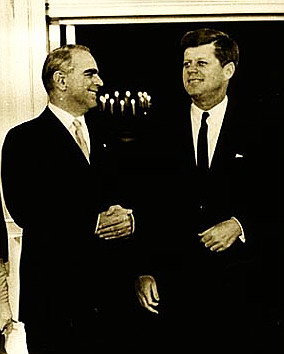 Constantine Karamanlis (with JFK during his visit to the USA in 1961)
Constantine Karamanlis was born in 1908 in what was then Turkish Macedonia. He became a member of parliament in 1935 and held various cabinet posts until 1955 when he became Greece's youngest prime minister, perhaps because he was so acceptable to the United States who saw in Karamanlis a conservative without the baggage of the older members of the right. His National Radical Union gained popularity through the fifties. A believer in NATO and the fact that Greece's best interests were with the United States he took the steps that eventually made Greece a member of the European Union. Though he did rebuild Greece's economy following the occupation and the civil war, he was criticized for a reckless industrialization that left the villages empty and increased the migration of Greeks to the United States, Canada and Australia in search of a better life. Following charges of government intimidation that enabled his party to win the 1961 elections, the murder of peace candidate Grigoris Lambrakis in which the government was implicated, and an argument with Queen Frederika over a planned visit to the UK, his cabinet fell in 1963, and Karamanlis went into exile abroad. His government was succeeded by George Papandreou's Center Union. Karamanlis returned to run in the 1967 elections. But these never took place. A military dictatorship overthrew the government one month before they were scheduled to take place. Karamanlis returned to Paris where he was a vocal opponent of the military junta. In July, 1974, the junta fell, following a disastrous attempted coup in Cyprus and the Turkish invasion of the island. Karamanlis returned as savior of Greece, and took the oath of prime minister at 4:30am on July 24 1974. His New Democracy party, made up of members of his National Radical Union won a substantial majority in the elections of Nov.1974, the first free elections in 10 years. He began immediately to undo the work of the military government, reestablishing civil liberties and presiding over the restoration of democracy. He legalized the communist party and put the leaders of the junta on trial, which was televised. A plebiscite in December of 1975 made Greece a republic and abolished the monarchy. Karamanlis served as prime minister until 1980 and as president from 1980 to 1985. He oversaw Greece's entry (1981) into the European Community (now the European Union ). He held the presidency again in 1990-95. A political opponent of Andreas Papandreou, the two worked well together during the period when Papandreou was Premier and Karamanlis was president. Constantine Karamanlis died in 1998.

"Humanity has already entered a new phase of its history. I entered the age of Democracy. Let us wish and let us hope that all men on this earth will enjoy the blessing of freedom, and that when they attain it they will make prudent use of it."